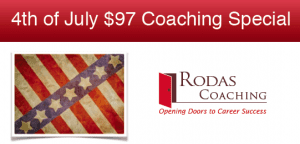 Do you need Freedom from a stagnant career path? Now is the perfect time to make sure you are uncovering new opportunities and positioning yourself to achieve your goals and maximize your potential.
This Independence Day, lets examine where you are, where you are going and make sure you are on a path to get there in the shortest time possible.
To help you get free from your stagnant path, I'm offering you an exclusive 4th of July freedom session for only $97!
I look forward to helping you let freedom ring in your life with a total career strategy that will help you have the career you deserve.
To take advantage of this opportunity, please e-mail me at deborah@rodascoaching.com or call me at 312-798-7404.