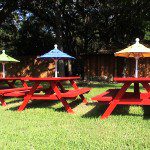 We survived the long winter and summer is finally here! Between the pool parties and backyard BBQs, you don't want to let your job search efforts slide. In fact, you can turn all of those parties into networking events that may lead you to your next great job opportunity.
So that you can enjoy your summer while also making the most of your job search, Huffington Post has created some good guidelines for your summer job search:
Keep it informal – If you meet someone that you feel could be a good professional contact, keep the conversation more personal and informal – don't "talk shop" unless they initiate it. You don't want to hurt a potentially great opportunity by being too aggressive.
Don't forget to follow-up – If you were able to meet someone in a position to hire or just a great connection, introduce yourself. Then, follow-up a few days later on LinkedIn to see if they'd be interested in meeting for lunch or an informational interview.
Build a network – Although summer is a time to have fun, keeping in touch with a small network of people who are working towards the same goal will keep your job search on track. Use this group to stay up-to-date about new job opportunities and to hold yourself accountable. You can communicate in-person or online through email chains.
Re-evaluate your job search – Carve out a little time in your day to make sure the path you're headed in is still the right one for you. Also assess and update your resume and skills. With a little extra time, you could take a class at a local college or volunteer to help with projects in your neighborhood. Not only will this keep your resume fresh but it will help you expand your network by meeting new people.
Of course summer is also for fun and relaxation, but don't forget that a potential job opportunity may arise at your next summer gathering.