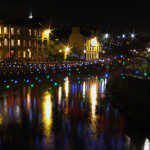 There are plenty of things to distract us from work the is time of year – holiday gatherings, office parties, traveling, etc. Luckily, Kory Kogan, a global productivity practice leader for Franklin Covey, spoke with Fast Company about how to focus on what you need to be successful this holiday season.
Be Intentional – Kogan recommends the 30-10 promise to stay focused during this hectic season. Before the week starts, spend 30 minutes thinking about what needs to be done and prioritize that list. At the end of each day, reconcile your list.
Take a Break – Research shows that even a 10-minute break during the day can increase productivity.
Say No – Don't be afraid to say "no" to festive events. The key to managing holiday invites is being intentional. Decide what's important for you at the moment and ask yourself whether each invitation is going to help you achieve that goal.
Set Expectations – Be realistic about how much you can do and handle. Let others know what they can expect from you to help ease your anxiety over full voice mailbox or a cluttered inbox.
You can see even more tips on staying productive during the holidays here.