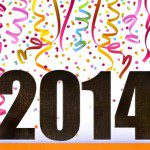 The new year is upon us which means a chance to start fresh. If you weren't seeing job search success in 2013, now is the perfect time to get a new job with these new year's resolutions for job seekers from Spark Hire.
1. Clean up your resume. Make it one of your job search resolutions to craft a new resume. Assess your resume, and determine which items should stay and go. For instance, if you graduated from college ten years ago, your GPA and extracurricular activities aren't super relevant anymore. Make sure your contact info is up-to-date. And with that, make sure your resume style is up-to-date as well.
2. Commit to networking. If you get pale and clammy at the thought of networking, don't worry — it happens to a lot of people. But they get over it, and one of your job search resolutions should be to get over it too. Commit to attending one networking event each month, which can include fun events like happy hours or in-person and online career fairs.
3. Invest in the interview. This particular job seeker resolution is two-fold. First, invest in a great interview ensemble. If you're searching for a more traditional job, go with a nice suit and tie. However, if you're interviewing at start-ups or creative agencies, lose the stiff look and go with something fun, yet professional. Secondly, practice, practice, practice. Finding a job is like a job in and of itself. You must prepare, and be ready "to work" at a moment's notice. Develop answers to those common interview questions like "Tell us about yourself" and "Where do you see yourself in five years?" Research companies with whom you're interviewing or at the very least interested in working for, and come up with a list of questions that you have for them.
4. Get your head in the game. Every job seeker goes through dry periods, and when that happens to you, you need to be mentally prepared. Keep in mind that the perfect job is out there for you and that it's just a matter of timing. What you can do in the meantime is get your name, face and experience out there.
Allow me to help you begin the new year stronger than ever. If you are interested in learning more about Career Coaching, contact me for a free consultation.