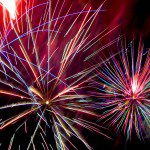 As you're preparing to celebrate the 4th of July holiday, think about how you can integrate your job search into your upcoming events.  Life is full of networking opportunities and a 4th of July BBQ is no exception.
It's okay to leverage your personal network.  Let your family and friends know that you're in the job market.  Most people are happy to help, but they can't help if they don't know that you're in the market for a new position.  Making them aware that you're looking for a job can open new opportunities for you.
Remember, even if you meet someone who may not be able to help you in the immediate future, that doesn't mean that they won't be a meaningful connection down the road.