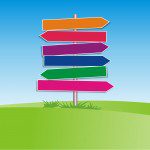 We make decisions all the time, some that require more thought than others. Regardless of the effort that is put into making a decision, it has to be accepted that some decisions will not be the best possible choice.
Many different techniques of decision making have been developed, ranging from simple rules of thumb to extremely complex procedures. The method usually depends on the nature of the decision and how complex it is. Below is one technique that will help you be more effective in decision making.
Seven Stages of Decision Making:
Listing all possible solutions/options – Brainstorm all possible solutions and/or options available
Setting a time scale and deciding who is responsible for the decision – Decide how much time is available to spend on the decision
Information gathering – Collect all relevant information
Weighing the risks involved – Decide how much risk you are willing to take
Deciding on values – Depending on which values are considered important to you, different opinions will seem more or less attractive
Weighing the pros and cons – Consider the possible advantages and disadvantages
Making the decision!
Are you currently weighing a tough decision? Maybe you're contemplating relocating for a career. Or perhaps you're trying to decide whether to stay in your current career. Decisions like these are exactly what I am trained to help you answer and accomplish. Contact me to get started.
re you stuck trying to decide whether to stay in your field or leave? – See more at: http://rodascoaching.com/for-career-coaching/#sthash.iiv4AfLQ.dpuf
re you stuck trying to decide whether to stay in your field or leave? – See more at: http://rodascoaching.com/for-career-coaching/#sthash.iiv4AfLQ.dpuf