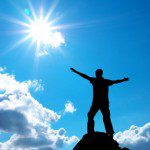 Are you confident? Do you feel unimportant or do you beat yourself up when you make even the smallest mistake?
Confidence is what healthy self-esteem looks and feels like.  When self-confidence is increased, doors begin to open to more personal and professional achievements.
We need to build self-confidence in order to succeed in many aspects of our life:
Experience more fulfilling relationships
Have more passion in your work
Enjoy your free time
Overcome self-defeating behaviors and addictions
Live with better health
Achieve more meaning in life
Self-Confidence Source recommends stepping out of your comfort zone to increase your self-confidence. Sure, you may stumble, but you could also feel successful and empowered. One way to achieve more self-confidence is by new doing things. Take a class doing something you always wanted to. Think how wonderful you'll feel knowing you are doing something for yourself while learning something new. Try striking up a conversation with a stranger next to you in line. You never know how much a kind word could improve his or her day and you'll feel good knowing you made someone else feel that way.
Maximizing your self-confidence can make a huge difference in your life, leaving you feeling fulfilled.  If you'd like to learn more about this topic, contact Deborah for your free workbook on how to build self-confidence.  It could change your life!