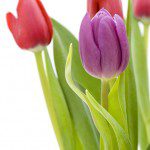 Just like our homes, sometimes our lives and minds become cluttered. It's time to clean out the old and let in the new! Pursuing a simple, sustainable, flexible,happier lifestyle means that you have to choose it. And that means choosing to lose some other things. It means getting rid of things that no longer work for you,it means updating the way you do things, it means freeing up some space for new and exciting opportunities and challenges.
Begin to update how you approach each day and free up space for the things that make your truly happy. Below are two steps to help you spring clean your life, clean out the clutter and get organized.
Clean Out the Clutter
Identify any negative habits and truly work to break yourself of them. Sweep out the tendency to gossip, as it wastes time and only ends up hurting others. Wash away procrastination to prevent the buildup of unfinished tasks from constantly preoccupying your mind. Kick anger and jealousy to the curb – if you feel you owe someone an apology, do it. And if you're waiting for an apology from someone who won't give one, accept that and move on. Cleaning out the clutter in your life is difficult, for sure. In fact, this first step is definitely the hardest one. But by throwing out the negativity in your life, you make room for more positive opportunities and personal growth.
Get Organized
As with any good spring cleaning plan of attack, after you've taken care of the clutter, it's time to get organized. You need to decide how you're going to effectively use all that new free space in your life.
Prioritize the things that are most important to you. Family, friends, career, fitness, travel, education, romance, a hobby … Whatever they are, list them out in order of importance.
Take a look at your day-to-day routine. How closely does your schedule align with your list of priorities? Is there something you aren't spending as much time on as you'd like? Is there something you're spending too much time on that isn't adding to your happiness?
Think about how you could more closely align your schedule with your priorities. Ask the people around you to help you with this, for example, ask your boss for that well-deserved time off that you never seem to take, or ask a friend to exercise with you to keep you both motivated.
Spring cleaning your life is a concept many of us ignore, and we keep going about our old routines, hoping something will change with out any action on our part. The key is to get started. So this month do one thing each week to spring clean your life and discover what a fabulous life you can create.