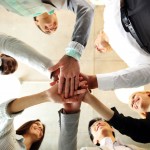 Team building is important for any organization, as success typically depends on the ability of individuals. Taking the time to build an effective team will improve productivity and motivation.
The following team building tips will give you ideas on how to accelerate your team building and build a more sustained, productive team:
Create A Common Vision – Spend time as a team thinking about what you want to create and where you want to go.
Set Common Goals – The goals of your organization should be understood and supported by all team members. Make sure team members know what role they play in supporting these goals.
Make Clear Roles and Responsibilities – Clarifying individual roles will help in achieving your common goals.
Provide Management Support – Make sure that managers are following up with team members regarding what their needs are and how team building can be improved.
Plan Engaging Exercises – Team building exercises should be fun, engaging and challenging.
Creating an action plan is the best way to ensure that team building is part of everyday work. Innovative Team Building recommends having managers follow up during regular staff meetings. Other ways of sustaining team building include manager check-ins and internal/external coaching.
And, most importantly, don't forget to have fun with your team!