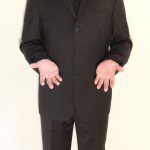 Simply submitting your resume doesn't ensure that it will land in the hands of a hiring manager, but there are a few things you can do to help your chances. Use these tips to get your resume past HR to those who actually make the hiring decisions:
Research keywords related to your role and insert them in your resume, LinkedIn profile and any other social media profiles that you use for professional purposes. There is always a chance that hiring managers could find you on social media and then ask for your resume. Adding keywords makes you easier to be found.
Do a search on LinkedIn to see how you are connected to your target company. You can ask for an introduction to a company employee through any first, second or third degree connections.
Mix online and offline techniques . Once you find someone to connect with using online research, consider taking the conversation offline by setting up a phone call or meeting at a networking event.
You can try a combination of these tactics or try the same ones repeatedly until you get the results you want. Remember, there is no magic solution but these are a few ways to improve your chances.