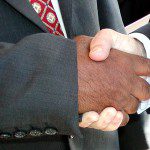 There are many different purposes for networking – to meet new people in your industry, to get your name out there, and even to find a new job. But how do you answer "what do you do?" when you're looking for a new career? Do you talk about what you have been doing or what you wish to be doing? The Ladders have come up with alternative conversation entry points to help you steer networking conversations with confidence.
"I work in X industry doing Y."
In this case, Y is your broader career goal rather than your current job description. The next question in the conversation will likely be about what you do and the future of your work.
"I am trying to figure out where to go from X, taking time to figure it out and plotting my next move."
In this instance, X will be an explanation of the last work project you were excited about. Choose a project about which you know a great deal. Before you finish your conversation, ask the other person, "What do you think your next career move will be?" This conversation opener tends to create discussions about life in general.
"I'm learning about X right now, which is very exciting. What are you learning about in your work?"
With this response, you will likely be asked why and how you are learning X. If you are excited about learning and expanding your skill set, this is your perfect introduction.
With these alternative introductions, you can direct your conversations. Try writing out your answers to the conversation starters above so you will be ready to succeed at your next networking event.