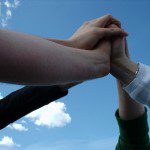 Team building is an important aspect of being a manager. Most organizations know the importance of building and fostering teams, but building an effective team requires ongoing work and input from managers. Rather than limiting teams to what each member can do on their own, the key is to unite your team around a common goal, which will raise productivity.
Huffington Post shares five steps to build an effective team:
Establish leadership – Managers need to develop the right kind of leadership skills, so that employees will work effectively on their own. Instead of asserting authority, foster trust through honesty and transparency.
Form relationships with employees – Learn more about each team member, like their skill sets and how they're motivated. This information is invaluable to leaders because they can match each employee's expertise and competencies. Giving your team open-ended projects will allow them to determine the best solution and encourage them to cooperate.
Build relationships between employees – Examine the way your team works together and try to improve communication and cooperation. If there is conflict, act as the mediator.
Encourage teamwork – Help your team work together effectively by encouraging them to share information among themselves and within the organization.
Set ground rules – Include your team in creating team values and goals, so they know what is required and they agree to it.
What tips do you have to build an effective team? Share what has worked for you in the comment box below.